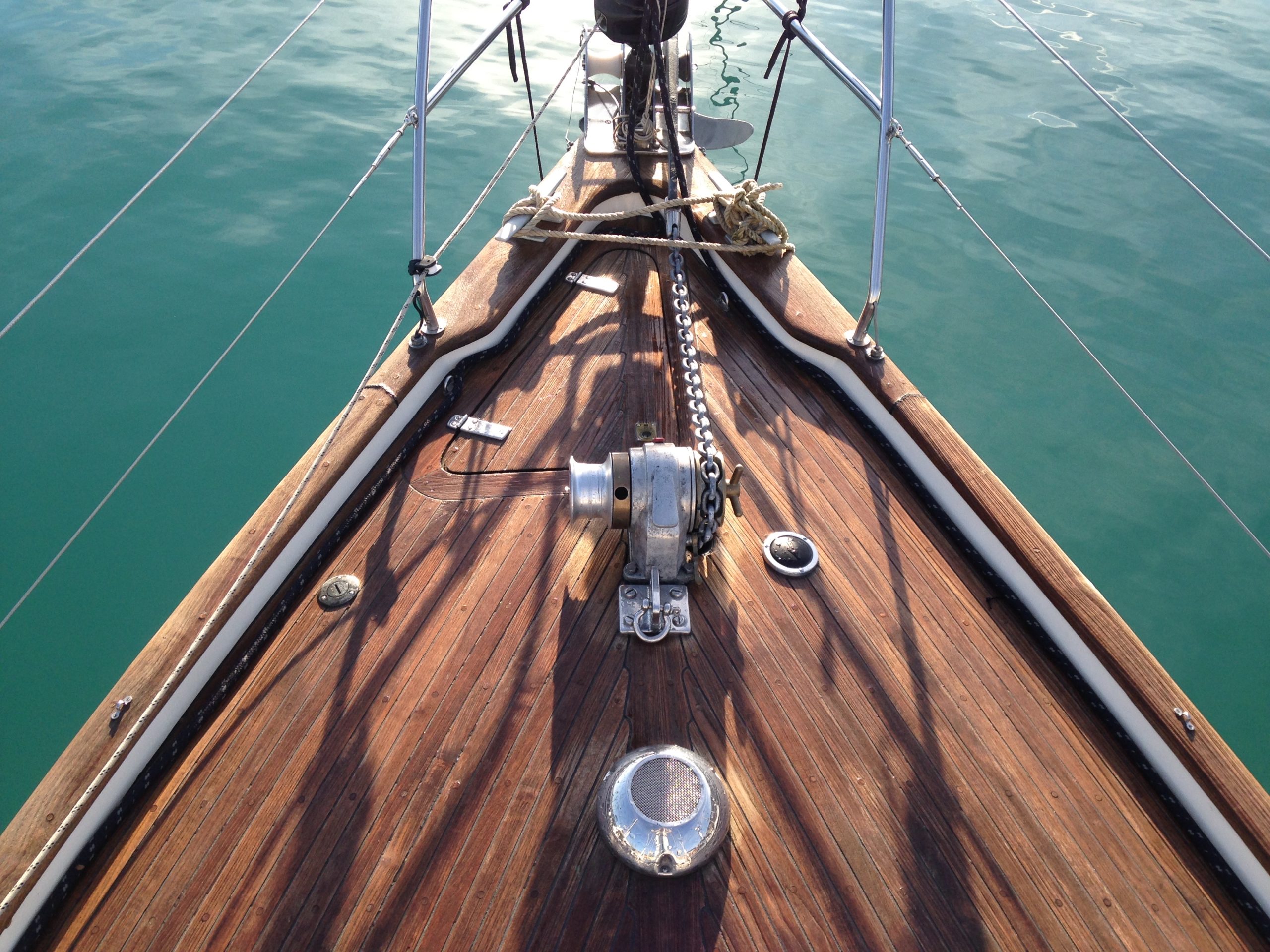 DREAM GIRL
"The very first advert I come across fills me with optimism. My HR352 is on Sint Maarten in the Caribbean. It is the most successful model in the history of the Hallberg Rassy shipyard. They have built 802 such yachts, but I am looking for a version launched after 1985. It has a taller mast and raised interiors. And there she is, my dream girl. I correspond with the British-based boat dealer, who asks for a deposit. Odd, considering a week after we wrote to each other he still hasn't sent the sale agreement. Having asked him for it once again and not heard back, I decide to waste no more time waiting and do some digging. Searching the internet where the boat is moored, I soon find photos of her. At least it means the yacht exists. But is it for sale? I call the marina office.
'Good morning!' I say, knowing the time difference on the other side of the planet. I ask the girl who answers to contact the owner of the boat, so I can chat with them directly.
'Sure,' she agrees, but it takes some convincing. 'I know this owner. I will go ask him and call you back.'
My phone rings a few minutes later, thrilling me with its tone. I am delighted. I will soon be on my way to the Caribbean to start the great adventure. Once I get to the islands I know so well from many cruises, I won't be coming back so soon.
'Well, sir, I spoke to the captain of this boat. Yes, he confirmed he is the owner of this Hallberg.' She is speaking with firm confidence, but then her voice trails off. 'I mentioned your enquiry about her sale, and it was first he'd heard of it.'
I am speechless.
'He laughed, and said Hallbergs only ever go up for sale when the owner can no longer walk or dies.'
Something in me is also dying – my dream of buying Hallberg Rassy quickly.
Indeed an entire year passes before I see the next advert for a Hallberg appear online – a HR352 built in 1986. She is offered by a reliable Hall-berg yacht broker in Holland. I call right away.
'Yes, sir, the boat is still here, but… unfortunately we do have a client from Belgium coming over to view on Friday.'
'Has he put down a deposit?'
'Not yet.'
'I will be with you tomorrow,' I say and cut the line.
The plane lands at the airport in Eindhoven. My map leads me down to the metro, then a train, then a local bus through southern Holland – Zeeland. I do not know this region, but it is another example of the genius of this courageous community. The area exists only thanks to a complex arrangement of dams and dykes. Nearby Rotterdam is four metres below sea level, so this town can't be much different. I walk along a dry, beautiful road toward a marina about a mile off, feeling most odd, a strange feeling of excitement. In a moment I shall see a miracle of nature and technology: a yacht I may soon sail around the world. We may experience some hard moments, but also the most beautiful years of my life.
'Would you care for a coffee?' the young man behind the sales office desk asks, the large plain glass windows looking out at the marina and the yachts.
'Yes, please,' I answer. But coffee is the last thing on my mind. All I want is to see my yacht, encounter it, touch the bow, stroke its hull.
'Here are some documents to sign.'
'Of course.'
The formalities only take a few minutes, but it feels like it is hours. We get up from our chairs and go down to look at the boat. I walk along and cannot believe what is happening to me. I am a step from fulfilling one of the four greatest dreams of my life.
We stop, as I see her in front of me. She is swaying in the water, inviting me in. I take off my shoes and set a bare foot on her deck, like a man taking his first step on the moon. I get my hands on the stainless steel bow pulpit, taking in every single detail, items familiar to me from the hundreds of photographs, blogs, pages and magazines that I have studied over the months. I know this model – the Hallberg Rassy 352 – so well.
Half an hour later, the salesman finishes his briefing. I stay alone with her. It is love at first sight. I check, open, touch, then sit on a sofa in the mahogany interior and smile. I will wait with the final decision until we get the results of the tests from a boat surveyor I have engaged. Still, I am close: closer than ever before.
An hour later the inspector, carrying a massive folder full of documents, arrives. He greets me and gets busy starting the engine. We leave the massive marina, home to over 2,000 yachts.
She answers to the helm so well. Any time I want to alter our course, even though she weighs 11 tons and is 10.5 metres long, she does so immediately. She listens to her captain, happy to be on the water. This is the hull I was looking for. Meanwhile, the Dutchman ticks off the next item on his checklist: the fixed rigging, the mast fastening. He studies it through a pair of binoculars, looking for any signs of damage on the top of the mast.
'We'll go up once we are back on land,' he says.
We will? I look at the man, already knowing which one of us will do that.
He opens the hatch, testing the bilge pumps. Everything seems to be in order. And so we head to the shipyard I contacted earlier, one equipped with a mighty crane. A young dockhand, his head a mess of blond curls, drives up to us in a massive steel frame which can lift up to 50 tons. Whistling, he wraps two broad belts around the hull with a lightness of touch, as if he knew this boat all his life. He asks us to disembark. And magic happens! This enormous yacht with a tall mast exits the water with grace and lightness, as if she weighed next to nothing. We see the starboard side of the hull. Then its part below the waterline, all painted in dark burgundy anti-fouling paint. The keel is an integral part of the design. This is why I chose this very model! Modern boats have their keels bolted to the hull, a method which often fails, leaking or even falling off completely.
The crane carries the boat onto dry land. The surveyor taps the sides of the yacht – inch after inch, using a special hammer. Then he scrapes off some anti-fouling paint to measure the hull's moisture with a special device.
'It's wonderful,' he concludes. 'This is a very healthy hull. There are no signs of osmosis, something we often find on poorly constructed yachts, leading to water getting into the laminate. It creates massive and dangerous pockets of water and air. Inside the cockpit, there is a plaque stating that Lloyd's of London supervised the construction of this boat.'
'Thank you,' I reply with great relief.
I turn to the boat dealer standing next to me:
'I am buying her."
REFIT
"I look at her, not believing she is right here. The aggressive bow ready to take on the biggest waves gives her this combative look. And that elegant profile along with the signature navy blue belt around the hull, well known all over the world. That tall, thick mast, held straight by ten stainless steel shrouds. A safe central cockpit, protected by a sprayhood. The hull and keel are one form – a V shape, which guarantees that the yacht will not jump up and down on waves like a ping-pong ball. She will cut right through them, deep and true – no ordinary design. A fabulous and seaworthy Hallberg Rassy 352. Interesting names, but Hallberg and Rassy were never partners.
It all started with the Swede Harry Hallberg, who constructed boats in the twenties and thirties of the Twentieth Century, proudly following a long family tradition of using only mahogany He used to say, "Someone who cannot build a boat without drawings cannot call himself a real boat builder'. Christoph Rassy was then a teenager in Bavaria, who dreamed of building yachts. One Swedish yard welcomed him, and young Christoph moved there with only his bicycle. To boost his budget, he built boats in his spare time. He raced these yachts, won, and sold them at a profit. Soon he wanted to strike out on his own. At this time Hallberg was changing premises, so his old yard was for sale. For a few years, Hallberg and Rassy were even competitors.
At first, Christoph Rassy built boats on a one-off basis. The first boat that became part of a series was the Rasmus 35, designed by a leading Swedish designer of elegant yachts, Olle Enderlein. The yard built the first two in mahogany; each took a year to construct. The design was ahead of its time as a pioneering long distance cruiser. In those days her 35 feet were considered enormous. She was a yacht with a windshield, a combination never seen before.
At the same time, Hallberg built his smart, attractive boats at a reasonable price in Ellös. They were successful thanks to serial production and GRP hulls. When he retired Rassy purchased Hallberg's yard.
One day a potential client had a dilemma. The Rassy Rasmus had a central cockpit and the Halberg Mistral had an aft, open cockpit. The customer asked a salesman at Hallberg's why he should choose the Mistral:
'As the boat has an aft cockpit, you do not risk water splashing into the aft-cabin.' was the answer. The buyer later went to the Rassy yard to look at the Rasmus. He asked Mr Rassy:
'Why not a boat with an aft cockpit, so you do not get water splashing into the aft cabin?'
'Who recommends that?' Rassy asked.
'The people at Hallberg's at Ellös.'
'They will never say that again.'
'Why not?'
'I bought the Hallberg yard this morning."
The Hallberg-Rassy 352 from 1978 was their sales success, with 802 yachts built until 1989. The designer combined, in a 35-foot boat, a walk through to the aft-cabin. They offered the HR 352 as an 'ultimate Ocean cruiser'. Above all, Lloyd's of London supervised the construction pro-cess and stamped their seal of approval on each such vessel: Malena is the proud owner of such an original metal certificate still attached in her cockpit. The Hallberg brand was the better known, with its four designs, while the Rassy yard only had the Rasmus. Thus this exceptional new boatyard was named – out of respect for its predecessor – Hallberg-Rassy.
My HR 352 is there right before me in the water. The day is sunny and warm, by Dutch standards, though we're still in April. I go up on deck once more, poring over every detail. I take out my earlier notes and add the title to my 'HR352 TO DO' list. It shows three hundred and eighty-two points to do, fix, buy or change. And these are not "clean the table' points, but tasks such as 'engine overhaul', "replacement of fixed and running rigging' or 'replacement of all valves.' Three hundred and eighty two serious action points, not because the yacht is all wrong. Quite the opposite: everything works without fault, for it is a well looked after boat. And yet this yacht is about to do something I haven't quite spoken to her about – take me all around the world. I learned a lesson while sailing the high seas. The smallest technical oversights combined with human error and the forces of nature can have deadly consequences.
My long 'to do' list is ready, so it is time to lift the boat out of the water again. I sail off from the quay, passing over a thousand other yachts stationed in the marina, and navigate into the Van Swaay shipyard. We cruise to a halt beneath a massive blue frame, which is the ship-lifting crane. I stop the engine. Then we place two super-strong belts beneath the hull, thick enough to haul my vessel, which weighs some 11 tons. It will spend the next two-and-a-half months on dry land.
The Van Swaay shipyard will do the general refit. Tom is its technical manager. This calm Belgian craftsman, a stocky fellow with a silvery beard, makes me feel confident in his competence and experience. My yacht and I are in expert hands, no doubt about it." (…)
Excerpt from: 'My name is LIFE' by CAPTAIN ANDY
Copyright ©